South African songstress, Belinda Davids takes us on an amazing journey channeling the love and musical talent of legendary diva, Whitney Houston.
Every moment is magical in this emotionally charged show.
The Greatest Love of All: The Whitney Houston Show reminds us that music and song can be cathartic. We are transformed with each note. We are transported back in time with each song.
I can still remember a young and happy Whitney in her flirtatious video "I Wanna Dance with Somebody". Fond memories of dancing with friends to that special song always makes me smile even during tough times.
Whitney Houston was a beautiful spirit that touched the lives of so many around the world.  I, like many of her fans, still mourn her loss and can't really believe she is gone.
This musical tribute reunites us with Whitney. We are invited to share in the joy and splendor of her presence once more. Even if only for a few hours, we celebrate all that is Whitney.
The legacy lives on through the genius of producer, Showtime Australia.
Directed by Johnny Van Grinsven and launched in 2013, the show has already wowed audiences across the US, Canada, Europe, South Africa, Asia, UAE, Australia and New Zealand.
Belinda Davids mesmerizes the audience with her stellar performance.
Her vocal renditions of Whitney's many hits bewitch the crowd. Close your eyes and listen; Whitney is surely resurrected.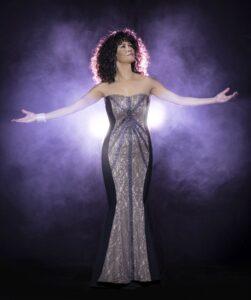 Davids' resemblance to Whitney is also truly remarkable. Stunning and Statuesque!
The live band, backup vocalists and a dance troupe add a touch of Las Vegas glow.
Whitney's featured songs include: How Will I Know, I'm Every Woman, I Will Always Love You and so many more.
The touching tribute will leave you teary-eyed and begging for an encore.
Not to be missed.
For more information on the show and tour stops, visit The Greatest Love of All official website.
Select U.S. 2018 Tour Dates:
Woodruff Arts Center; Atlanta, GA – July 27
Kroger Symphony on the Prairie; Indianapolis, IN – August 3 & 4
Overture Center for the Arts; Madison, WI – August 10
Miller Outdoor Theatre; Houston, TX – August 26
Fox Tucson Theatre; Tucson, AZ – September 1
Gallo Center for the Arts; Modesto, CA – September 6
Palace Theatre; Stamford, CT – October 11
Rams Head on Stage; Annapolis, MD – October 15
Photos Courtesy of Showtime Australia and the FSCJ Artists Series Jacksonville