The European trip, while expensive these days for Americans, is still near the top of many people's travel list. Like anywhere, there are ways to do it more inexpensively. One of the best ways to get around Europe is by train; RailEurope offers various passes within countries and between countries, from one ticket to multi-day and month passes.
I recently took a trip in Switzerland that was done entirely via public transport; using a SwissPass, I traveled the country by train, bus, boat and even aerial cable car. Traveling this way was not only super easy, but a really wonderful way to see the country. Since RailEurope combines the maps, schedules and fares for over 50 different train companies across Europe, it really is the one-stop place to plan and book European rail travel.
Traveling by train in Europe, I found that a few little tips can really help make your trip more efficient, enjoyable and easier."Rail Europe has had a long time relationship with back packers," says Melanie Albaric of RailEurope. "The passes we distribute allow them to connect so many places in such an easy fashion that totally suits this way of traveling allowing spontaneity and to explore more."
Here are my top tips for traveling by public transportation in Europe:
Lockers for Luggage in Train Stations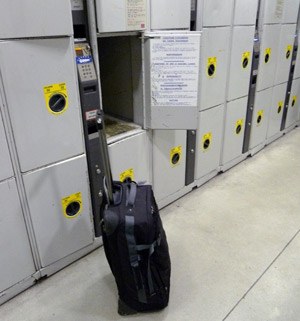 One of the beautiful things about having a rail pass is that you can hop off the train and spend the day, or a few hours, seeing places along your journey's route. The biggest problem with doing this is always luggage – do you want to have to lug it around with you all day?
Fortunately, most major train stations have a left luggage facility offering either self-serve luggage lockers or staffed luggage facilities. You may not find as many of these types of services available in the UK, France, Spain and Italy.
Keep in mind that there is a fee to store your luggage at a train station. Typically, stations will charge a flat rate to rent a luggage locker that you're free to fill. For staffed luggage facilities, you may incur a "per bag" fee. In either case, the fee is usually under 10 Euros. If you do leave your bags, be sure to keep some money in your pockets for the luggage lockers.
Free Museum Admission and Other Freebies and Discounts
With my SwissPass, I was also able to get free entry into more than 400 museums (not that I went to them all!). The pass was also a museum pass, and offered discounts at other places as well including restaurants and shops. It was also good for riding any public transportation in any city for free — and that is the same in Germany as well.
Throughout Europe, The Eurail Pass comes with a whole Bonus section that gives a lot of discounts including ferry tickets, day trips and sightseeing tours, wi-fi discounts and more. Here is a blog post that outlines this in more detail.
Train Stations as Rest & Info Points
As a general rule, train stations are the heartbeat of the cities since they have shops open when shops are closed everywhere else. Some of the main train stations in larger European cities offer lounges. Access to lounges depends on the type of ticket you have; generally a first class (Premier and for some trains, Comfort) ticket is needed.
Trains that offer lounge access are:
Hotels and Rail 'n Drive Passes
As I discovered in Switzerland when my SwissPass allowed me to travel on boats, trams and buses along with trains, RailEurope passes aren't just for train travel. They also offer options that allow you to combine rail tickets with a rental car, and even offer hotel booking.
Exclusively offered by Rail Europe, a Rail 'n Drive pass combines a rail pass along with a certain number of car rental days. This allows you to use the mode of transportation most convenient at every step of your European itinerary.
Fast Baggage and Fly/Rail Baggage (Switzerland only)
If your travel plans take you to Switzerland (and lucky you!), there are some extra services available in that country that make hopping around via train even easier. The Fast Baggage service offers same-day baggage delivery between 45 cities and holiday destinations throughout Switzerland.
Items considered "fast baggage" are suitcases, bags, skis, snowboards, sleds, and strollers. Skis, snowboards and ski boots are transported in protective covering provided by the baggage company. This service is often used for popular winter destinations where large equipment and skis might be in transit, including: Basel SBB, Bern, Chur, Genève Interlaken, Lausanne, Locarno, Lugano, Luzern, Montreux, Mürren, St. Moritz, Wengen, Zermatt and Zürich.
Fly Rail Baggage service offers to send Luggage directly to more than 50 Swiss railway stations from any carrier at any North American Airport. This can be done for the following items:
Baggage will pass through customs and will arrive at the final destination up to 12 hours after arriving at the airport. Fly Rail Baggage can be used within 6 months of purchase.
Resources: