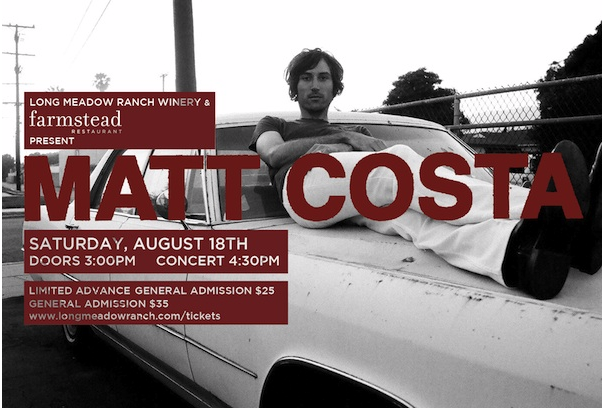 Napa Valley is on your hit list this summer. Why not mobilize your friends now and make a weekend of it! Food, wine and live music! Fans of Matt Costa are in for a special treat at Long Meadow!
Mining his longtime love for '60s psychedelic superheroes like Donovan, 13th Floor Elevators, the Zombies, the Electric Prunes, and the West Coast Pop Art Experimental Band, singer-songwriter Matt Costa's stunning third album, Mobile Chateau, has been released on Brushfire Records, the label owned by singer-songwriter Jack Johnson.
A bold step forward into the kaleidoscopic beyond, Costa's latest effort comes in the wake of his critically acclaimed 2006 debut, Songs We Sing, and 2008's well-received Unfamiliar Faces. His sophomore set yielded the breakout single "Mr. Pitiful," which featured prominently in the hit comedy I Love You, Man and an iTunes ad campaign, and sent him crisscrossing the globe for well over a year.
Enjoy farm-to-table wine and food experiences, dining at Farmstead, Executive Chef Stephen Barbers' summertime eats from his new smoker, complimentary wine tasting (one per guest), kicking back on the lawn, soaking up some Napa Valley sun and so much more!
Long Meadow Ranch Winery & Farmstead is a sustainable food, wine and agricultural center located in St. Helena, the heart of the Napa Valley. This exciting destination offers an array of experiences for lovers of local food and wines that underscore Long Meadow Ranch's time-honored motto of "Excellence through Responsible Farming."

Go see Matt Costa on Saturday, August 18th and tell us all about it!
Doors open at 3 p.m.; performance at 4:30 p.m.
$25 limited advance general admission, $35 general admission; each ticket includes one
complimentary wine tasting.