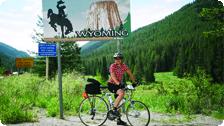 Monday, February 20th, 2006
by Gigi Ragland In June of 2004, the Tour de France occupied much of my thoughts. The race—on its ninety-first anniversary—marked Lance Armstrong's bid for a record-breaking sixth consecutive win. That same year, I was training for a cycling tour of my own. Yet whereas the Tour de France consists of twenty stages of grueling
Friday, June 3rd, 2005
by Gigi Ragland Undaunted Courage, by Stephen Ambrose, chronicles the heroic overland expedition of Lewis and Clark. These adventurous men and their thirty-one member party, dubbed the Corps of Discovery, journeyed westward from St. Louis in search...
Friday, June 3rd, 2005
by Gigi Ragland Before I left for Thailand, friends advised me to visit Wat Po, the oldest and largest temple in Bangkok. They recommended Wat Po not because of the temple's overwhelmingly stunning physical attributes, or because...