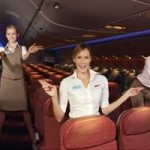 Thursday, July 23rd, 2009
Virgin Australia has planned a quirky, crazy new promotional concept involving three winners from Sydney, Australia travelling to Los Angeles, staying three days (or 4,320 minutes) and Tweeting about their experience the entire time! Will the team...
Friday, May 29th, 2009
One child's life-transforming surgery costs as little as $240 and can take only 45 minutes. Join the Tango Diva team as we help support the goal of 140 of these surgeries to children around the world through...