San Anselmo, California is nestled in the heart of beautiful Marin county. Just north of San Francisco, the town makes for a great day trip. Let's say you're on your way home and remember tomorrow is your bestie's birthday. Savvy Divas don't settle for the predictable. We've found three little-known sources of arts and crafts which assures you a thoughtful gift along with a great back-story.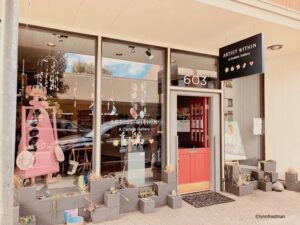 CEDARS GALLERY:
At the Cedars you can buy one-of-a-kind items for a reasonable price and know your money supports not only the gallery, but a workshop for mentally challenged residents of Marin.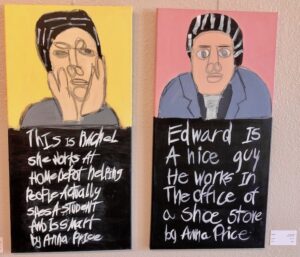 These lovely paintings are the work of Anna Price and Lisa Mikulnik.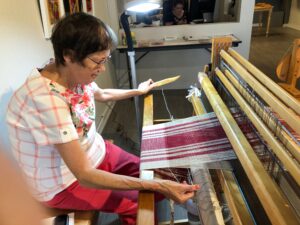 If you're lucky, you can meet the artist who made that lovely pair of earrings or the hand woven place mats. Shiela, pictured above, is working on a three month long project involving 30 feet of fabric. She's really talented, as you can see.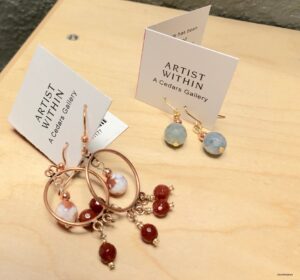 Megan Osllen, seen in the title photo, is working on a drawing for an upcoming show. She is a multi-talented artist who also makes jewelry. She said Robin Williams used to shop here.
Inside this craft studio for local kids is a couple of shelves selling some really creative stuff, like hand thrown pottery and recycled pencil mobiles for example.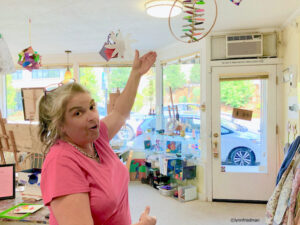 Owner Gabriella Drake has spent the last 16 years running her drop-in studio where children can learn new crafts and you can finds some really creative gifts. Gabriella never tells her students what to make, merely provides the resources.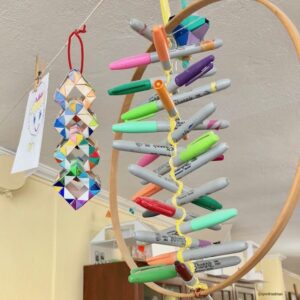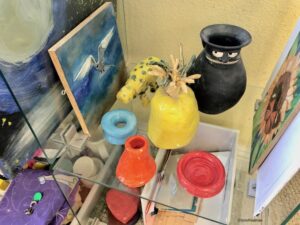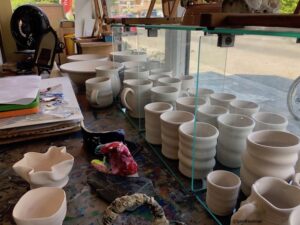 SAN QUENTIN GIFT SHOP:
Yep, that's right, a prison gift shop, no appointment necessary.
Ok, not really San Anselmo, rather an unincorporated part of Marin County, the part tourists don't usually see, or probably want to see. Too bad, there's a lovely view right off the bay.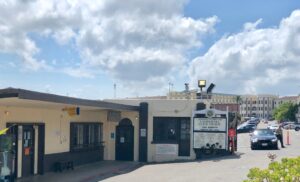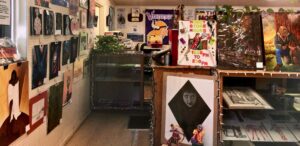 If you're inclined to take photos, remember to stay behind the yellow line, that's the official end of the prison grounds.
…….
Cedars Gallery
603 San Anselmo Avenue
San Anselmo, CA
cedarslife.org
Art Abloom
751 Sir Francisco Drake
San Anselmo, CA
artabloom.com
San Quentin Gift Shop
156 Main St
San Quentin,CA